2/17/2008
There are some gems in the book of ideas
Like many Oklahomans, we were looking forward to the results of the 100 Ide...
more


2/2/2008
ScissorTales: The big ideas
Cargill books his '100' initiative
Just as the roof was bein...
more


2/1/2008
In our view: 100 ideas
The idea of a grassroots idea-generator for improving government is a good ...
more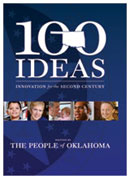 The 100 Ideas Book
Click here for the PDF version of the 100 Ideas book.
Download Here
Make a difference
Read some of the
ideas
that have been posted. Comment on them,
or
submit
your own.
Stay Informed
Sign up
for the newsletter and stay current with issues that can
impact our great state.